We recently completed the installation of a new IP surveillance video system in St. Augustine at our main office! We've completed the installation and service of many small and large IP (Internet Protocol) security camera systems for our clients from Jacksonville to Ocala. We knew it was time to update our analog cctv camera system to take advantage of the benefits we often tell our customers about: being able to recognize faces instead of blurry figures.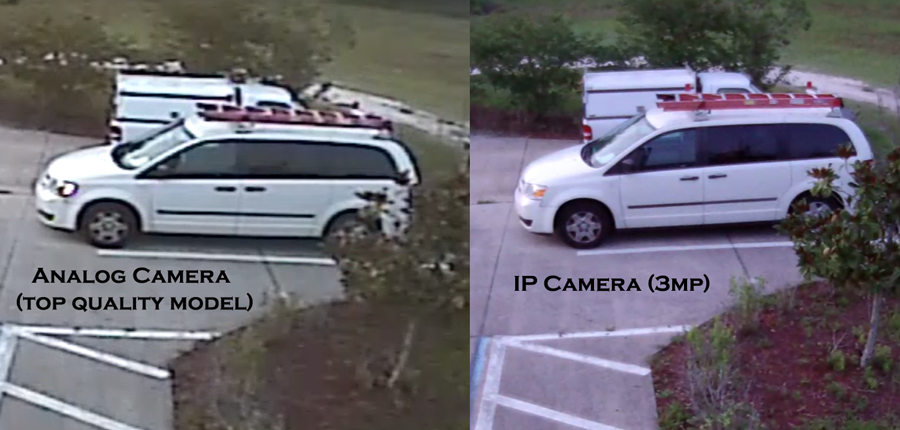 The 3 megapixel (mp) IP cameras give us ultra-high resolution to zoom in on the recording footage later if an event or accident occurs. Many terabytes of hard drive storage gives very long security video recording time of well over a month.
We suffered two break-in and vandalism attempts so the new system was a necessity to prevent further losses. Although our analog surveillance cameras were the best available, the most they could do was confirm that "yes, someone broke in." That happens all the time with analog cctv systems. Being able to know the bad guys were wearing a white t-shirt, blue jeans and a ball cap was NOT very helpful. The police need security video footage that lets you recognize actual faces!
We paired the 3 mp vandal proof dome cameras with night vision IR (infrared) and a hybrid Network Video Recorder (NVR or HVR) to replace our old Digital Video Recorder (DVR). This allowed us to keep our analog cameras for demonstration purposes so we can show the difference between analog and IP camera systems.
We can log into the system remotely so we can view our security cameras from anywhere on our smartphones, tablets, or computers. The vari-focal surveillance cameras let us zoom in or out as needed to provide excellent coverage of our 4-acre industrial property, including the truck entrance, freight loading dock, and all four sides of the facility. Thanks to our fantastic and professional technicians for giving us peace of mind and a perfect installation!
To know more about our different security and surveillance camera installation services, Click Here.